NEW
Jessica Alba's
Not Planning Her Shotgun Wedding Yet

Jessica Alba left the gym on Friday wearing her Juicy coat, yet another cute cap (hats seem to be a staple for her these days) and carrying two purses.
Seems like she's not going to let a little baby bump get in the way of staying in shape. On the other hand, she is putting some plans for her personal life on hold until after the baby arrives.
Apparently, Jess wants to marry Cash, eventually, but doesn't want to be pregnant in her wedding dress.
SOURCE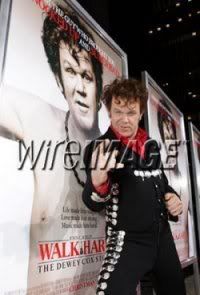 ©WireImage.com

Walk Hard: The Dewey Cox Story,
the new Judd Apatow-
John C. Reilly
comedy about the life and times of a machete-wielding Johnny Cash type, seemed sure to die a quick death after selling only $4.1 million worth of opening-weekend tickets, per studio estimates compiled Sunday by Exhibitor Relations.
It was cowritten and produced by the red-hot Apatow (Knocked Up, Superbad). It was fronted by the reliable Reilly (Chicago, Talledega Nights). It was heavily promoted, right down to a seven-date, Reilly-fronted Dewey Cox tour.
And it was...ignored.
"It is horrible," Exhibitor Relations' Jeff Bock said Sunday, agreeing that the film's eighth-place debut and $1,547 per-screen average was just not good. "Parody is a tough sell, but even The Comebacks opened stronger than this one."
"John C. Reilly is probably one of the best sidekicks in Hollywood," Bock said. "But there's a big difference in being a prime-time player."

**MISS**
©WireImage.com

Nicolas Cage, meanwhile, enjoyed his second big hit of the year and, if estimates hold, the biggest box-office weekend of his career, with National Treasure: Book of Secrets hauling in $45.5 million to lead the holiday competition.
Cage, meanwhile, proved he can still move the merchandise, provided he steers clear of Wicker Man bear suits. Book of Secrets, the sequel to 2004's original National Treasure, comes 10 months after Ghost Rider reestablished Cage's good box-office name.
**HIT**
Among the other major releases, the Tim Burton-Johnny Depp musical Sweeney Todd (fifth place) pulled in a respectable $9.4 million at 1,249 theaters.
The political comedy Charlie Wilson's War ($9.6 million at 2,575 theaters) and the romantic comedy P.S. I Love You ($6.5 million at 2,454 theaters), which debuted in fourth and sixth place, respectively, did as expected—not a whole lot, despite Tom Hanks and Julia Roberts lending their names to Charlie Wilson's and Hilary Swank lending hers to P.S.
Juno, in its third weekend, the teen-pregnancy comedy moved into the top 10 ($3.4 million; $6.4 million overall), despite playing at only 264 theaters.
Here's a recap of the top-grossing weekend films based on Friday-Sunday estimates compiled by Exhibitor Relations:
1. National Treasure: Book of Secrets, $45.5 million
2. I Am Legend, $34.2 million
3. Alvin and the Chipmunks, $29 million
4. Charlie Wilson's War, $9.6 million
5. Sweeney Todd, $9.4 million
6. P.S. I Love You, $6.5 million
7. Enchanted, $4.2 million
8. Walk Hard: The Dewey Cox Story, $4.1 million
9. The Golden Compass, $4 million
10. Juno, $3.4 million
E!ONLINE

Avril Lavigne
Fun Facts:
1)Avril Lavigne learned how to use a Weedwacker at age 12 and earned $15 a yard as a lawn landcaper.
2) Avril Lavigne earned Most Valuable Player honors two years in a row as the right-wing on a Napanee, Ontario hockey team. She once beat up a goalie and said of the experience, "It was awesome!"
3) On Avril Lavigne's wedding day, her chauffeur drove her to the wrong California estate, where another wedding was being held. Thankfully, the driver of her vintage Rolls Royce quickly found the right location.
4) Though her style sense has changed since her early career, Avril Lavigne still loves to wear black nail polish – especially on her fingernails. "I'll use the Wet 'n Wild black polish. But normally I like to get somebody to do my nails," she told she tells In Style.
PEOPLE.COM