I'm not a fan of Vanessa Hudgens but I came across her music video 'Say Ok' off her album 'V' and I absolutely love this song. And let me tell you Zac Efron in this video is looking SO HOTT!

Jessica Alba
and Cash Warren Are Engaged!
In exciting news, how about that big old honking diamond engagement ring on her finger?
The day after she announced her pregnancy we noticed a band (maybe this ring turned around) and then we heard that they weren't planning a shotgun wedding.
But now, her rep confirms that the couple is, in fact, engaged to be married.
Congrats again to Jess and Cash! Whether or not they wait until their new addition to actually tie the knot, we'll have to wait and see.
See the ring bigger..
HERE

Brenda Fraser
and his wife, Afton, are ending their 9-year marriage.
The couple wed in 1998 and have three children.
Fraser, 39, has starred in the 'Mummy' films and 'George of the Jungle.'
© The Associated Press.

Wedding Bells are ringing for
Josh Duhamel and Fergie.
The actors rep confirms to
E! Online
that Duhamel pooped the question to Fergie.
Josh, 35, and Fergie, 32, have been together since September 2004, after they met when she made a guest appearance on Las Vegas.
Fergie is working on completing her second solo album.
Josh is currently in his fifth season on Las Vegas.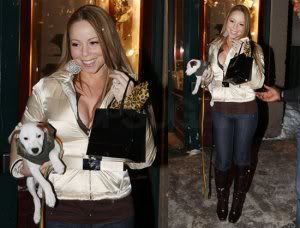 Mariah
makes Aspen her year-end tradition and this time her latest family member, the adorable J.J. is along for the ride.
We're used to teasing Mariah for saying goofy things like this or for not dressing her age, but this time she seems to have figured out how to look cute and sexy as she's seen here around town in Aspen.
PopSugar
REAL MADRID

David Beckham
left a restaurant in Madrid, Spain the night wife Victoria performs a Spice Girls show in the city, Dec. 23.
USMagazine

Spencer Pratt
The Hills co-star joined his "Nana" to serve food on Christmas Eve to those less fortunate at the Los Angeles Mission.
I guess Heidi doesn't like to do anything charity since she wasn't there to help.
USMagazine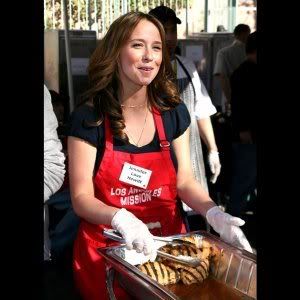 Actress
Jennifer Love Hewitt
was also there. She served chicken to the homeless of Skid Row at the Los Angeles Mission on Christmas Eve.
DAY AFTER CHRISTMAS SHOPPING

Vanessa Hudgens
and
Ashley Tisdale
hit Fred Segal and Louis Vuitton at the Hollywood & Highland Center in Hollywood Dec. 26.
USMagazine