Well this is what I went and purchased Wednesday...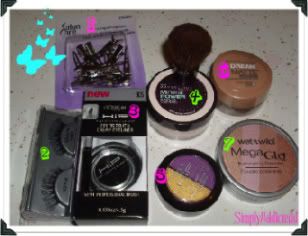 1) These are the hair clips I bought to start putting my little girls hair bows together (Once I have those put together then I'll show them off too)
2) I must have my fake eyelashes because I have NONE.. I'm completely bare, when I was younger and used to wear mascara the way I would take off my mascara at the end of the day was by pulling the mascara off with my fingers and of course eyelashes came with it.
3) This is
L`Oreal HIP Color
Truth Cream Eyeliner in "Black"..It's similar to
MAC's
Fluidline.. I had purchased a liquid liner from
ULTA
and man that was the saddest $8 bucks spent EVER! That liquid liner did not work at all. It had a sponge applicator and it kept making streaks instead of a line. And this one is awesome. You only use a little bit on your brush applicator and it goes a long way.
4)
Maybelline
Powder Finishing Loose Powder in "Translucent".. After applying makeup I've never used a powder to finish and to keep the makeup in tact so I thought I'd try one out. So far so good...
5)
L`Oreal HIP
Dual Eyeshadow in "Flamboyant".. I love bright colors.. the yellow isn't that bright but it's good enough for me, I'm still hoping to buy
MAC's
yellow because that is one BRIGHT color.. anyhow, it's a duo with a mellow purple.
6) Makeup I use..Maybelline Dream Matte Mousse in "Honey Beige" Liquid gets to oily on my face and can't do powder because it gets all cakey on me. This mousse glids on so smooth.
7) I had to try
Wet'n wild
Mega Glo cheek illuminater. Suppose to give me that whole bronzy, shiny cheek look. Sort of like this...
And sadly I have lasted only 1 day on TOPMOMMA imagine my NOT surprised face when I check my email and the first message on there says (which I have to say they get straight to the point) on the subject header "You just got booted from TOPMOMMA.COM".