With Spring being here walking I think is a great way to get fresh air and do some sort of exercise. Because I hate the other exercising. You know the dumbell raises, leg squats, and situps..boooo
Yesterday I saw a cattle bell at
Target
and I thought about buying it and my hubby picked it up from the shelf and almost dropped it so I think it's a little out of my fitness range.. if he can't pick it up then I'm guessing I definitely can't either.
I was hearing people doing some sort of
Liquid Diet
and I hear that they lost like 9lbs in ONE WEEK! Even I know that's unhealthy. How sensitive would the stomach be after just consuming liquids and then go back and eating solids.
Or how about
NutriSystem
you spend around $200 dollars every two weeks for prepackaged food but YET you still have to add YOUR own fruits and vegetables..um...ok...
Then I heard people using Slimfast AND NutriSystem together. Man the things these people will do to lose weight. I may be curvalicious but I have my limits. I really, really prefer to TRY to do it healthy by cooking healthy foods because I prefer to eat :D
So lately everywhere I turn everyone is talking about the new
MAC Heatherette Collection
.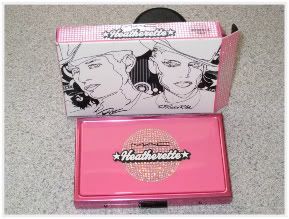 For all the hype about it I hear that it's really not that great. I personally wouldn't spend $35 on a trio palette
And these Lipcolors don't even go with my skin color, I would really stick out with the pink one.. but their packaging looks cute
© JTurbanos