Feeling
Now it's official, there is
nothing
on
unless you count
'Dancing Wars:CarrieVsBruno'
actually worth watching, or eww
'Gladiator'?
And I've never been a fan of
'Prison Break'
. So it seems back to
Law and Order:SVU
reruns again... Maybe I'll try a different
rerun
today, how about..
Ghost Hunters:International
?
@ 8pm again nothing good on. You have
Terminater:Sarah Chronicles
or
Deal or no Deal
I can't stand those kind of shows. Jee didn't even know
Notes from the Underbelly
was still on..I think at 8pm...the winner is...
Paranormal State.
Now at 9pm it's a different story you have
CSI:Miami
total fan of
Emily Proctor
, but if they keep Horatio talking slow i'm bound to fall asleep through tonight's new episode..or maybe I'll watch
Medium
. I so missed last Monday's episode so gotta catch up...

© POPSUGAR
Jennifer
, in he final weeks of her pregnancy, arrived at the Gramercy Park Hotel with her husband
Marc Anthony
in NYC this weekend for her baby shower thrown by
Maid in Manhattan
producer Elaine Goldsmith-Thomas. Guests included
Diane Sawyer,Leah Remini
and
Roberto Cavalli.
The party's decor was supposedly
pink
and
blue
only maybe confirming she is having boy and girl twins.
How pretty does she look!
For more pictures visit
POPSUGAR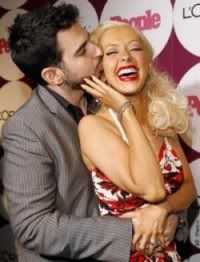 E! News
has learned exclusively that new parents
Christina Aguilera
and Jordan Bratman held a bris, the Hebrew baby naming and circumcision ritual ceremony, at their Beverly Hills home Sunday.
More than a dozen family and friends attended the gathering. Jewish rituals aren't new to the Bratman family. In 2005, the couple wed in a Jewish ceremony in Napa Valley, California.
A bris is typically done on a baby's eighth day of life, and sure enough, son Max Liron was born Jan. 12. He came home from Cedars-Sinai Medical Center earlier this week.
The ceremony formalizes the child's name; his middle name, Liron, means "my song" in Hebrew.
It seems as if Ms
Audrina
has a new boy toy named Bernard and they have been dating for two months now, and from the side of him he looks pretty
yummy!
SOURCE