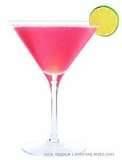 I remember those days when after work me and my friends (A, Victoria, and myself, you remember A? hehehe) would go out to the "bars/clubs" and have so much fun experimenting on different drinks. We were newbies to all cocktails, long cocktails, and shots.. I think "A" had a
Chocolate Martini
and almost hurled. I had a
Long Island Iced Tea
and and I don't remember drinking the second one! Some were
good
, some were
bad.
One time we went to this one club.. at 4 in the afternoon for
Happy Hour
man can't remember the name of that place...and we kept ordering the same drink, I think it was just
cocktails
and the waitress lets us know we should try ordering something else, and by then we were already somewhat plastered and offering us more drinks, she did her job well, she brings us a glass full halfway with OJ and a tequila shot.. she then tells us to drop the tequila shot inside the OJ.. and we did and drank it right away and loved it.. For some reason the name
Tequila Sunrise
comes to mind but I notice in that drink
grenadine syrup
is added and we didn't have any of that...Nope it was a
Tequila Screwdriver.
That day was the funnest we had in that summer, we went bar hopping (which "A" swore she'd never do) and I got soooo
drunk
I can't remember how we got home..we actually went our separate ways, which of course was reckless.."A" took a cab to my house were she left her car, and me and Victoria caught up with one of her exes and took me home.. so it was insane but fun..
One time at a strip club, they are
hilarious
, they were offering us shot's of
Melon Balls
and I'm not sure but I think we even had a
Fuzzy Nipple
...

sigh

the good ol' days. Now it's like water, the occasional
Corona
cause if I drink too much I won't be able to hear my kid if she wakes up in the middle of the night. And that's a
bad
mommy!
Fuzzy Nipple Recipe
1 1/2 oz Smirnoff® vodka
1 1/2 oz DeKuyper® Peachtree schnapps
1 dash triple sec
2/3 part orange juice
Pour all liquids over ice and shake. Pour into highball glass and garnish with either an orange wheel or a cherry. Can also be made frozen.
Long Island Iced Tea
1 part vodka
1 part tequila
1 part rum
1 part gin
1 part triple sec
1 1/2 parts sweet and sour mix
1 splash Coca-Cola®
Mix ingredients together over ice in a glass. Pour into a shaker and give one brisk shake. Pour back into the glass and make sure there is a touch of fizz at the top. Garnish with lemon.
Tequila Screwdriver
1 shot tequila
fill with orange juice
Pour a shot of Tequila in glass, and fill with orange juice. Stir.
Tequila Sunrise
2 msr tequila
orange juice
2 dashes grenadine syrup
Pour tequila in a highball glass with ice, and top with orange juice. Stir. Add grenadine by tilting glass and pouring grenadine down side by flipping the bottle vertically very quickly. The grenadine should go straight to the bottom and then rise up slowly through the drink. Garnish stirrer, straw and cherry-orange.
Get more Drink Recipes
HERE