It's official..so much pink my daughter cannot be found. I can't help it, every time I see one of those pink princess items I have to buy it..or anything pink really..For example..
Her toy hamper and her chair she uses to watch cartoons...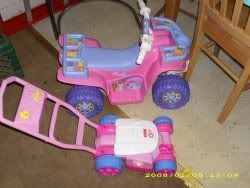 Her little lawn mower that blows out bubbles and her barbie Mobile

I found this on YouTube today

Now how cute and funny is this?