© DTD / BuzzFoto
PEOPLE.COM
,
TMZ.COM
and others are all reporting this
SAD
story of Britney Spears.

It seems that yesterday was one of Britney's scheduled visits, that when her time to return them was overdue Britney locked herself in a room with Jayden for almost three hours refusing to hand him over to Kevin.
One of Kevin's bodyguards already had put Preston in the car. When the police arrived and entered her closed gate home, they say she was under the influence of an unknown substance...






Don't they get it..this poor woman has and always had Postpartum Depression. ← (READ ABOUT IT). With every ones jokes, everyone in her face demeaning her or her ability to parent are mean comments that can always probably heighten her depression. And with the little support from family and the type of friends she had only made it worse.


For gods sake they even took her to the Medical Center, where they say she will be on a minimum of a 72-hour lock down for mental evaluation. It had never to do with drugs or alcohol. Why couldn't anyone just ever once think she had it? It's not a hush hush problem. So to not give it a name everone just assumes she's out of control, a druggie or an alcoholic? Are those better terms than to admit a celebrity (who's still a human being and a mother) has an actual illness?

Didn't her crazy behaviour start after her children were born? And articles like 'Britney said her kids were a mistake' is just horrible to say and I think all the MEDIA are also to blame for her recent actions and emotions.

I am a mother and I thank God that I didn't have to deal with this illness. But what everyone is doing to that poor woman is not fair and it's not right. You don't play with that illness and yet there is a camera on her face 24/7, with all those lights flashing at her face. Yea everyone says she's asking for it, because she's famous and everyone wants to know her life, but she's still a human being, leave her alone, I doubt there are still many fans who want to know when she went to taco bell or what party she went to for Halloween.

And don't get me started on Kevin Federline's lawyer!! OK I get she's sick but to ALWAYS be in a rush to take her kids away, to attempt to strip Spears of her visitation rights is just a bit over zealous. Where is all the law enforcement, where are the therapist, psychologist, or social worker to let her know about her problem or let the courts know? NOW they want to take her to the hospital for evaluation?


And no one is taking it serious..Just look at these idiots.
↓
Fame Whores Crash Brit's Ambulance Ride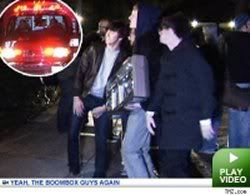 "The so-called Bandarazzi tried to make the best of Brit's disastrous evening -- by rocking out in front of Spears' ambulance --"
Watch the video HERE
↓
Or this douche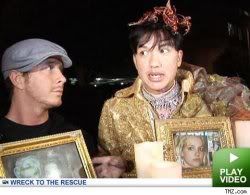 "Bobby Trendy said he was holding a "visual" for Britney. Carrying a pic of Brit in his hands, while his associate held a photo of Anna Nicole, Trendy said they "don't want Britney to end up like the late Anna Nicole Smith."
Watch the video HERE


Other mothers are only on the news after they have harmed themselves or their children. For Britney being so famous she's already in the news and no one is helping. The news media the paparazzi, magazine editors and everyone has a part in making Britney's life spiral down. They are playing with someones who is already unstable..slowly all the media, ex husband, family members, so called friends, along with her illness is pushing her over the edge, and eventually everyone will have a hand in her self destruction and be somewhat at fault in her or her children's death.