What I'm watching:
Ghost Hunters
I found this on
A Whole Lot of Nothing's
Blog.. Pretty funny!
Read
what they are writing about the suppose new Diet Drug:
Alli Side Effects In Layman's Terms


Today we took Karla to our mall where they have a section where children can just run around and knock themselves out. Karla and I had been couped up in here for such a long time we needed to get fresh air and make sure we could still communicate with the outside world.
Ready to go
On top of the sausage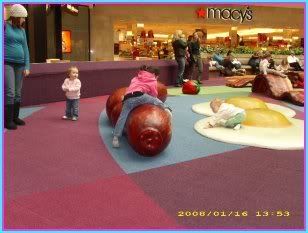 On some eggs
Resting from all that yolk hopping
She looks like a little drunk here