I'm off to go grocery shopping but first I
tried
to make a grocery list. I was gettting bored of always doing the same meals so my sister gave me these two books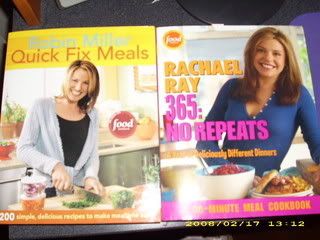 The first one is
Robin Miller
QUICK FIX MEALS. But let me tell you out of her 200 "simple, delicious recipes" I found only 6 recipes that I likes. YEA only 6!
Rachel Ray's
365: NO REPEATS was the same, out of a recipe for every single day I only found 5 that I really enjoyed to make.
Most recipes are just ridiculous. Some have the same ingredients but then for the next evenings meal your adding one additional spice and that's it. No fun! And half of the ingrediants they use are stuff I normally don't purchase anyways. I don't buy
Capers, fresh ginger, wasabi paste, dill
and so on. Why can't they make new SIMPLE recipes. One recipe I did enjoy alot was from
Rachel Ray's
book. It was the:
Mega Meatball Pizza:
EVOO
1 pizza dough
palmful of flour
2 tbs finely chopped fresh rosemary
salt
1 1/2 lbs ground sirloin
1 med onion finely chopped
4 garlic cloves
black pepper
1 3 ounce can tomato paste
1/2 c grated Parmigiano-Reggiano
1/2 tsp dried oregano
3/4 c. fresh mozzarella

Preheat oven at 425

Place pizza dough on flour dusted pan and bake for 10 mins.

In a large Skillet add 2 tbsp of EVOO, brown and crumble the meat for a couple of minutes, then add the onions, garlic, s/p. Mix well, then work in the tomato paste, stir in cheese, parsley and oregano.

Remove pizza crush from the oven and top with the meat mixture. Arrange the cheese over the pizza and return it in the oven for another 11-12 mins

whoo

In this recipe she askes for Ground Sirloin but for some reason I did it with Ground Beef and it still turned it really good but now I have to try it with the Sirloin.
Rachel
has another real good recipe it's the
Southwestern Pasta Bake
. It's really just penne rigate pasta with ground beef with a cheddar cheese sauce, really good.
So off to the store we go

sigh

It's so gloomy outside I don't even feel like going..noooo you can't make me!!! I'm sure my little on can live of
Ramen Noodle
soup!