This is what you get when you want to be unique and name your child something outrageous.
This is the story of Food Networks new chef
Jamie Oliver
, from what I understand (because I haven't really watched his show) he has a lisp.
"The celeb chef phoned up the Womb Raider to tell her how pukka her new film Beowulf is, (This was in November) and he politely asked after her daughter but was unable to get his chops around the name and made an unfortunate Spoonerism instead. He, by accident, called her daughter Piloh Sh*t instead of Shiloh Pitt. The mortified chef has sent the actress a dessert made with her fave food, Cheerios cereal, as a tasty apology."
I blame the parents.
I mean really when I first heard her name 'Shiloh' I immediately though of the Disney Movie with the tag, "Inspirational Story About Boy And His Dog.." hehehe how horrid.
I mean,really, there are 50 crazy celebrity baby names...
50!
That's a long list of children doomed to playground ridicule by their celebrity parents.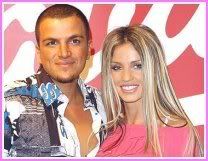 You know them from
VH1's
reality show
Katie + Peter.
They have named their daughter
Princess Tiaamii.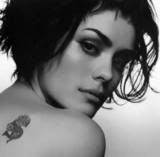 Shannyn Sossamon
You know her from
A Knights Tale
and she was also in
The Order
. Both movies she starred in with
Heath Ledger
. She has named her son
Audio Science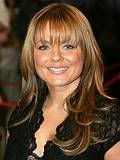 Yes this really is Geri Halliwell
Bluebell Madonna
Steven Spielberg and Kate Capshaw:
Destry:
Nicholas Cage
Kal-El Coppola
Sting and Frances Tomelty:
Fuchsia
Sean Penn and Robin Wright:
Hopper
Jermaine Jackson and Alejandra Genevieve Oaziaza:
Jermajesty
Elle Macpherson and Arpad Busson:
Aurelius Cy
David Duchovny and Tea Leoni:
Kyd
Read the other 40 HERE