This morning is one of the few times I actually wake up before my normal time of 8am, yes I know I'm lazy, and I send my hubby off to work with a kiss and a lasting impression of me..
hahaha right..
The last look is with my hair all wild with eye crusties.
I watch him get to his car and drive off and I notice kids already walking to school( I live in front of a middle school) and I notice this girl totting around a
Juicy Couture
handbag! Similar to this one...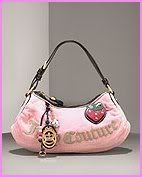 Which runs about
$145.
This purse for this price has
• Gold-tone hardware.
• Buckle shoulder strap with rings.
• Zip top with leather loop pull tab.
• Gathered front with tan "Juicy Couture" embroidery.
• Red/green strawberry accent.
• Includes three attached charms (shown left to right): Beaded leather cord, gold-tone crown crest charm, and faux-pearl charm.
JUICY COUTURE
.
Ok whatever but for a tween to have it must either indicate she's a spoiled brat, her mommy and daddy really don't pay much attention to her so they buy her stuff to make up for it, has an older sister, which I doubt would even let her
touch
it or... well that's all the reasons I can come up for her hauling that purse around.
I'm all for my daughter having up to date clothes and the occasional brand name but when your that age I think it's already giving them the impression that you have to have name brands or your not cool.
Well anyway.. I love all of
Juicy's
purses..but they are way
expensive,
my substitue is
KATHY VAN ZEELAND
. Ok on her website and at Macy's they are expensive but sometimes (and probably everyone knows this) if you go to
Ross
they usually end up carrying the same purses at half the price.. which I did not think about at the time of my purchase of my beautiful bag. It was the only one at
Macy's
and you know how it goes, if you don't buy it now then it wont be there later..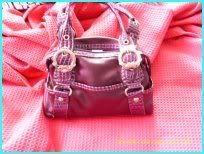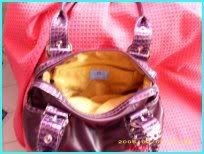 all this fits in it..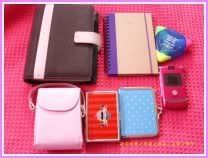 My Planner

notebook

marker

camera (case)

ID Case

Not sure why I carry this around..
I just hold like cash or coupons

And my beautiful phone! Luv it!
How cool is this:


Go to
MAGMYPIC
upload your pics and
'Viola'
your on a Mag cover! I found this at
HONEYSINLOVE
while blog hopping.