Nothing new or exciting happening today..
oh wait
, I got out of my pajamas today--before noon! Yea!
It snowed so much yesterday and today that we got almost 4 inches in snow and I told my husband not to go to work today.. the roads are bad and a part of the highway is closed. Of course he doesn't listen to me and goes anyway. 45 minutes later he calls me and tells me he's only 10 minutes away from the house and he's been stuck in traffic all that time. See,
what did I tell him?
It's not that I want him to miss work on purpose it's that they're many driver who think their car is invincible against the ice on the roads. A truck passed on my street that's a 25mph zone, and they drove on it at like 35 probably. You know these ones...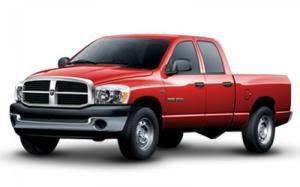 I get scared that he can get into an accident. Try driving in front of that big a hunk of metal with a small car...
Not my car, but you get the point

Anyway he gets off the higways and heads home..So he rested for a couple of hours then headed out to his
2nd
job. My poor hubby =)
I'm going to bed early tonight because I have two appointments tomorrow all before lunch. I have one for my daughter at our clinic and at the same clinic after her appt. I have my
"yearly"
appt.
FUN!
Where they get to tell me that in one year I have lost only 2 lbs and they look me up and down and ask
'Do you have any health issues'?
Well not really, our clinic has really nice staff, except not counting my old doctor, ohhh bitch! Other than that they take forever to call your name but they realise that and apologize, but I also notice that they do talk alot of time in answering question and they don't rush you, which I appreciate.
So my choice of shows tonite while I lay in bed is
SciFi Channels: Scary…but True
.
"It presents real-life ghostly encounters of young people across the globe, whose convincing evidence confirms that scary things don't just happen to adults!"
Because I
love
freaking myself out! And then after that I'm going to watch
Linda Blair: Scariest places on earth
"A trip to some of the most haunted locations on the planet."
Love it! With a cup of hot cocoas, can't wait..
(For some reason my spell check hasn't been working for the past week.. hmm well I hope I spelled everthing right, 'cause, i cane speel, u now..)