Meet Max Bratman! How beautiful do they both look..aww... This week's People gives first look at Christina Aguilera and Jordan Bratman's 4 week old baby Max. Christina is blonde as ever, but she left the red lipstick at home for this photoshoot. He's so cute and tiny! Love it! I don't even remember my little girl at 4weeks old.
POPSUGAR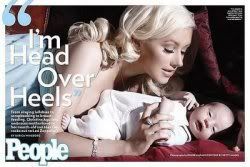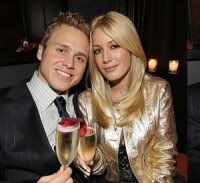 ©
POPSUGAR
"
Valentine's Day celebration early with some champagne and kissy faces at EA's Burnout Paradise last night. Heidi's new video has been
mostly laughed at
by pretty much everyone since it hit the internet, and of course she had to answer back to all of the negative attention. She said,
"I cried myself to sleep that first night after my video came out. I just couldn't understand why people I didn't even know felt the need to be so cruel and hurtful toward me."
"
Don't feel too bad for poor Heidi though — not only is the
song No. 7
on
iTunes
, but the "starlet" already has a backup plan in the words. She's working on
Heidiwood,
a new collection of clothes that will be out this Spring. Can't wait to hear what LC has to say about that one. If you are one of the few fans of Heidi's music career, she's also got a new video coming our way, and according to Spencer, it will "blow people's minds very soon." Well, it can't be any worse than her last video, right?
"